Introduction of Tools: From Inception to AIIMS Modification
Diagnosis
Diagnostic Criteria

DSM IV (1994 à2013)
DSM 5  (2013 onwards)

Diagnostic Tools

INCLEN
AIIMS Modified INDT-ASD Tool
DSM-IV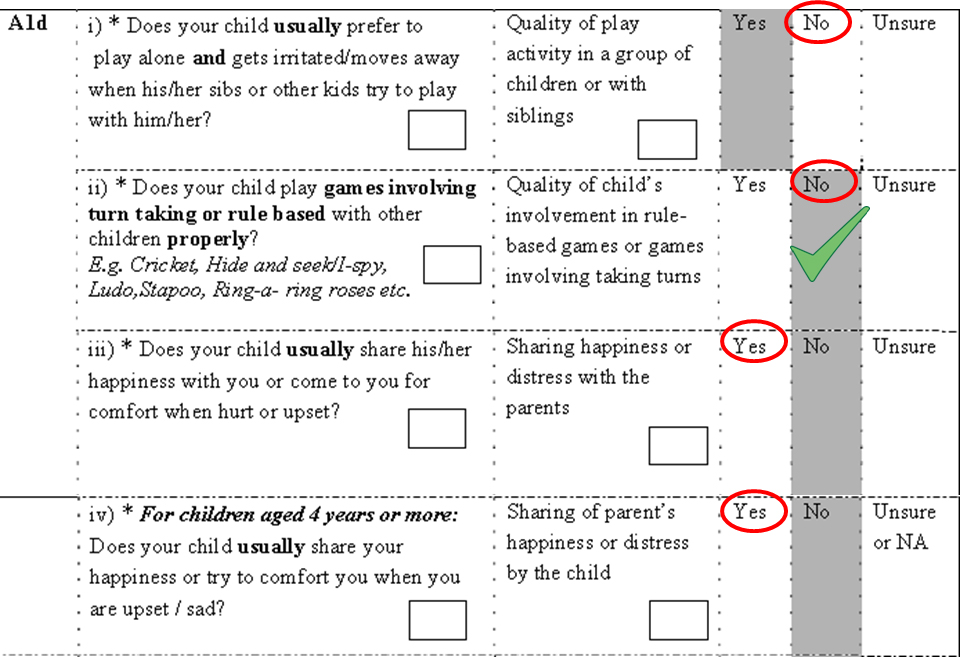 DSM-5
DSM 5 (2013)

A single diagnosis replaces the sub-divisions
Diagnosis based on 2 areas

Deficits in social communication and Fixated interests
Repetitive behavior

Restriction of onset age loosened from 3years to "early developmental period"
New severity ranking
Development of INDT ASD Tool for Diagnosis of Autism Spectrum Disorder
INVESTIGATORS  of INCLEN NDD PROJECT

Dr. Narendra Arora (Project Leader)
Dr. MKC Nair (Principal Investigator)
Dr. Jennifer Pinto-Martin (Co-PI)
Dr. Donald Silberberg (Co-PI)
Dr Sheffali Gulati (Network Coordinator)

INCLEN STUDY GROUP

Arun Singh
J.C Gupta
Poonam Natrajan
Sunil Karande
A.K Niswade
Archisman Mohapatra
Rajesh  Sagar
Sanjay Rai
Alok Thakkar
K.K Handa
Rakesh Kumar
Satinder Aneja
Arti Maria
Maureen Durkin
Ravindra Pandey
Savita Sapra
Atul Prasad
Monika Juneja
Rohit Saxena
Sharmila Mukherjee
B.C Das
Madhuri Kulkarni
Ritu Juneja
Sunanda K
Bhadresh Vyas
Muneer Massodi
Rashmi Kumar
Tanuj Dada
Devender mishra
Manju Mehta
Rashna das
T.D Sharma
Faruque Ahmed
Nandita  Babu
Rema Devi
Veena Kalra
Gouri Dewan
Nidhi Singhal
Sandeep Bavdekar
Vijay Chandra
Gautam Bir Singh
Paul Russell
Santosh Mohanty
Vinod Bhutani
GVS Murthy
Praveen Suman mehta
Saradha Suresh
Vinod Aggarwal
Harikumaran Nair
Poma Tadu
Sujatha Thyagu
Zia Chaudhary
Abhishek Singh
Abhimanyu Singh Chauhan
Shobha Sharma
Vaishali Deshmukh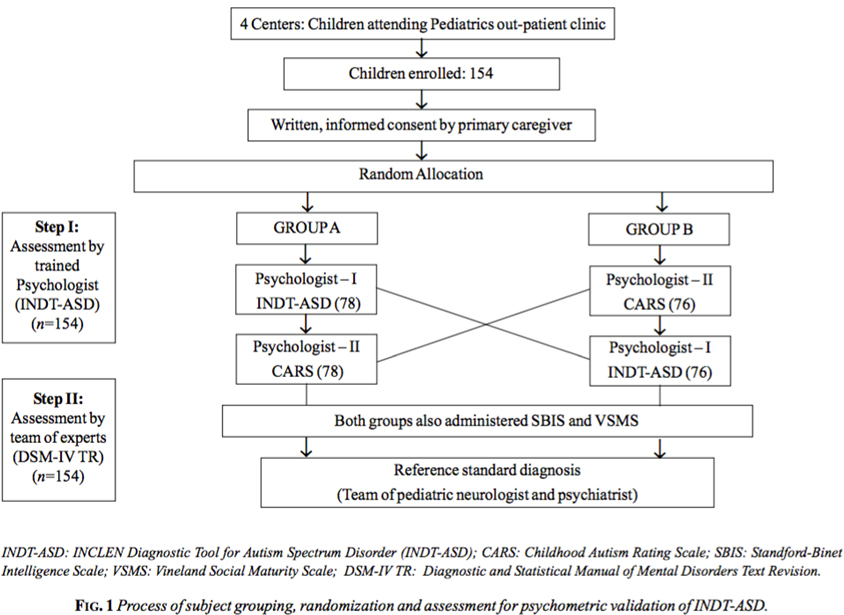 Research Paper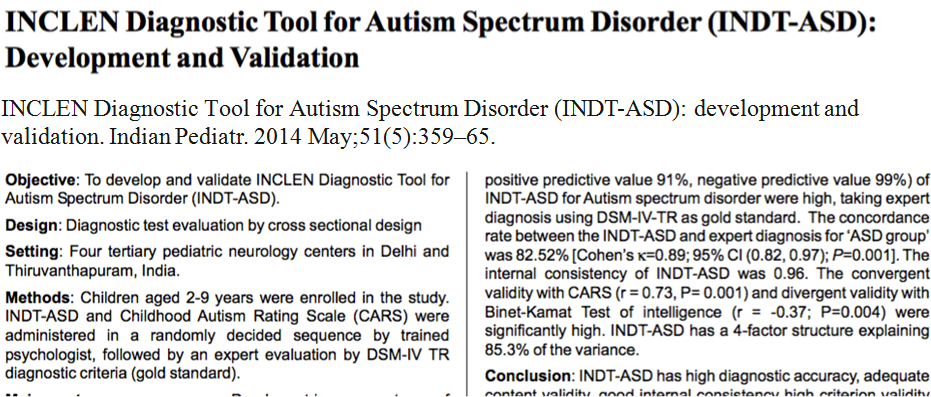 Indian Padiatrics

INDT-ASD Diagnostic Tool (DSM-IV based)
The diagnostic accuracy [AUC=0.97 (0.93, 0.99); P<0.001]
Sensitivity 98%, specificity 95%, PPV 91%, NPV 99%
Merits:

High diagnostic accuracy
Adequate content validity
Good internal consistency
High criterion validity
High to moderate convergent validity
Easy to administer; no training required

Concern:

Use of DSM-IV as gold standard
Lack of severity scoring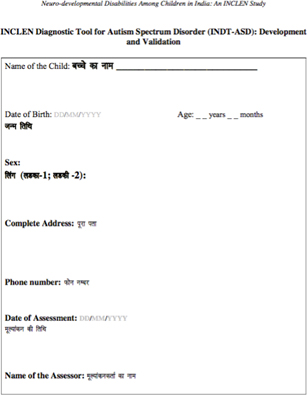 INCLEN Diagnostic Tool for Autism Spectrum Disorder (INDT-ASD): development and validation. Indian Pediatr. 2014 May;51(5):359–65.
Why Move From DSM-IV to DSM-5?
DSM-5 provides a single umbrella diagnosis of autism spectrum disorder for:

Autism
Asperger syndrome
Rett syndrome
Childhood disintegrative disorder
Pervasive developmental disorder-not otherwise specified (PDD-NOS).

Symptoms of autism spectrum disorder are specific (NOT pervasive) to impairment in social interaction and communication with presence of restrictive, repetitive behaviour.
There are concerns of PDD-NOS being labelled as mild developmental disorder and Asperger as 'odd' behaviour.
Overuse of PDD-NOS leads to diagnostic confusion and may contribute to epidemic of autism
Symptoms of autism spectrum disorder are not salient among children with Rett syndrome
Developmental regression in autism spectrum disorder has a wide range in timing and nature of loss of skills, hence precise existence of childhood disintegrative disorder has been challenged by many author worldwide.
Literature has suggested that there is a considerable overlap between high functioning autism and Asperger syndrome questioning the need for separate category for the latter.
Development of AIIMS Modified INDT ASD Tool for Diagnosis of Autism Spectrum Disorder
Development and Validation of DSM-5 Based AIIMS Modified INDT ASD Tool
Aim of the study was to develop and validate AIIMS modified INDT-ASD tool for autism spectrum disorder (ASD) against gold standard DSM 5 criteria for diagnosis and categorization of severity of ASD in children aged 1-14 years
Conducted in Child Neurology Division, Department of Pediatrics, AIIMS, Delhi
(Prof Sheffali Gulati) in collabartion with INCLEN group
Development of AIIMS Modified INDT-ASD Tool
A team of national experts reviewed the pool of questions (Focused group discussion) in the new tool

Pediatric neurologist
Clinical psychologist
Child psychiatrist

Pool of items were selected by investigator using modified Delphi method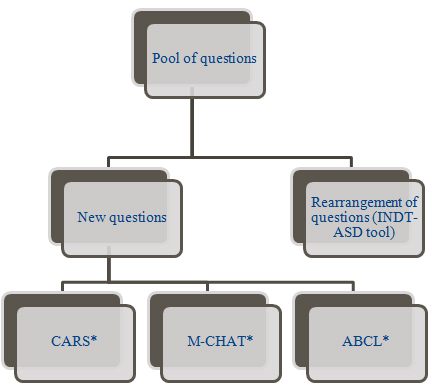 *CARS: Childhood autism rating scale
*M-CHAT: Modified checklist for autism
*ABCL: Autism Behaviour Checklist
AIIMS Modified INDT ASD Tool for ASD
Response was marked as "yes", "no" and "unsure"
"unsure" was considered "no" for statistical purpose
Combination of question and observation
Each question has been labelled as autistic or non autistic response
Time taken: 25-30 min
AIIMS Modified INDT ASD Tool
AIIMS modified INDT ASD tool
DSM-5
Section A
Number of items/questions
Social communication and interaction
Social emotional reciprocity
8
Non verbal communication
4
Relationships
3
Restricted, repetitive pattern of behaviour, interest and activity
Stereotyped movement or speech
7
Routines
1
Fixed interests
1
Sensory symptoms
4
Total number of items
28
Section B
Analysis of section A
Summary of assessment
9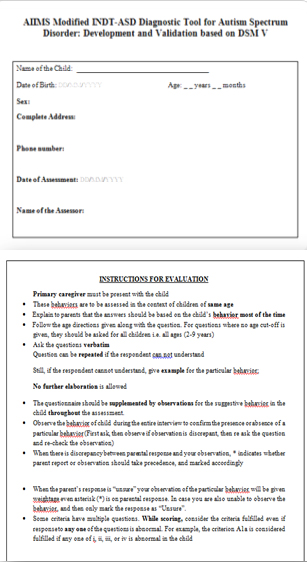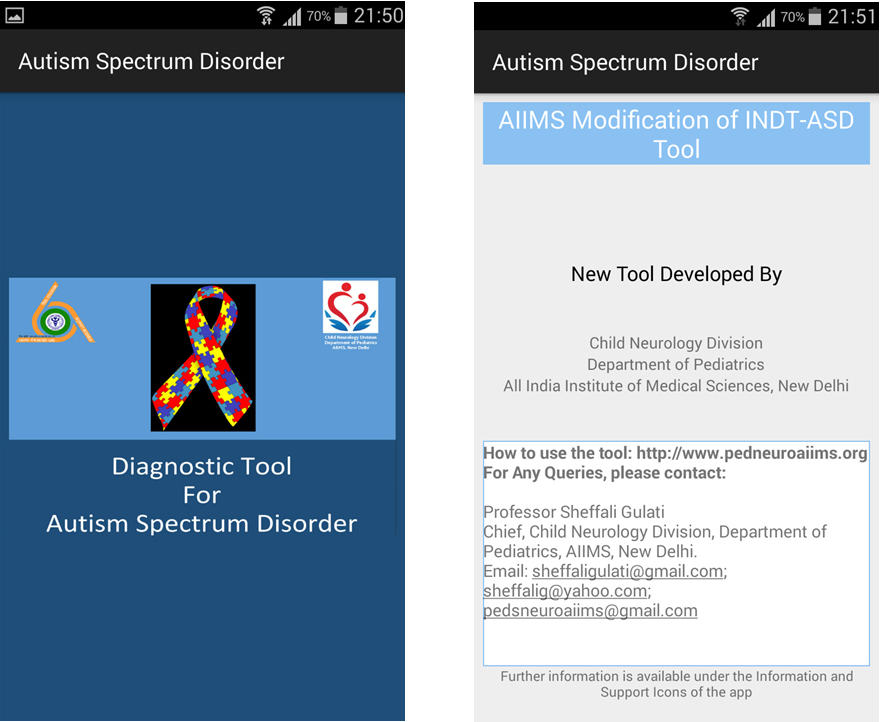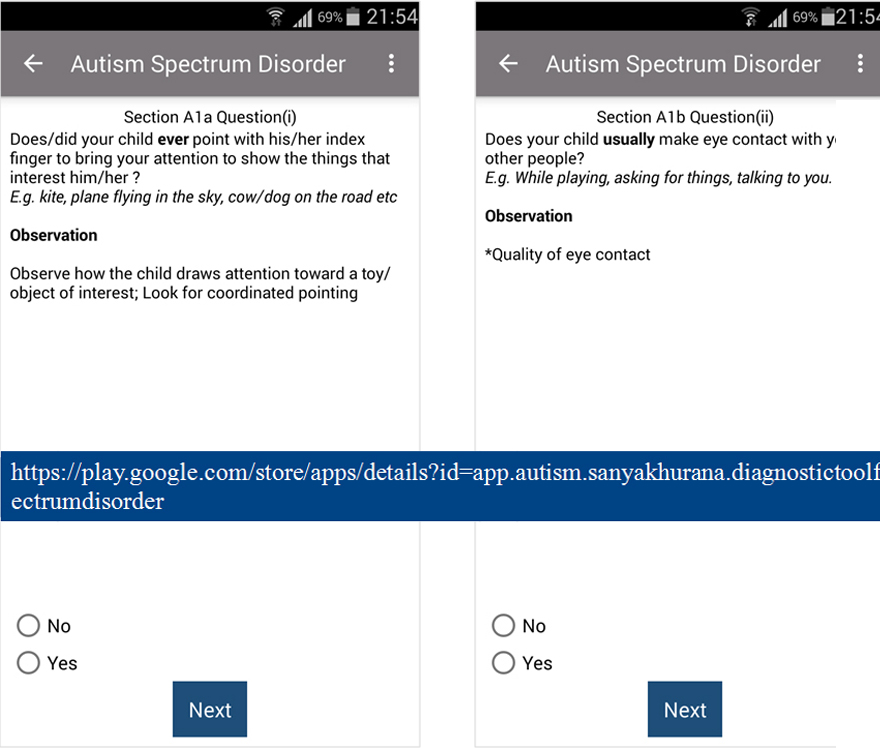 Conclusion
ASD diagnosis based on DSM 5
Tools available

INDT-ASD Tool
AIIMS Modified INDT-ASD Tool
Thank You
© Copyright 2014. All Rights Reserved by Child Neurology Division