Outline of Presentation
Prologue
Goals of treatment
Therapies: evidence
Medical management
Anecdotal treatment
Complimentary and Alternative Medicine
Summary
Prologue
ASDs are not "curable," hence chronic management across life span is necessary
Variable outcomes & dynamic behavioral characteristics
Most children with ASDs remain within spectrum as adults
Need constant support with independent living, employment & social relationships
Intervention Targets
Core features: Social interaction, Communication & Stereotypy
Non-core features or challenging behaviors: Irritability, Aggression, Hyperactivity, Insomnia, Self-injury
Co morbid states: such as OCD, depression and anxiety, GI disturbances, epilepsy etc
Activities of daily living
Quality of life: individual and family
Facilitating development and learning, promoting socialization, reducing maladaptive behaviors,
Without causing adverse effect
ASD: Management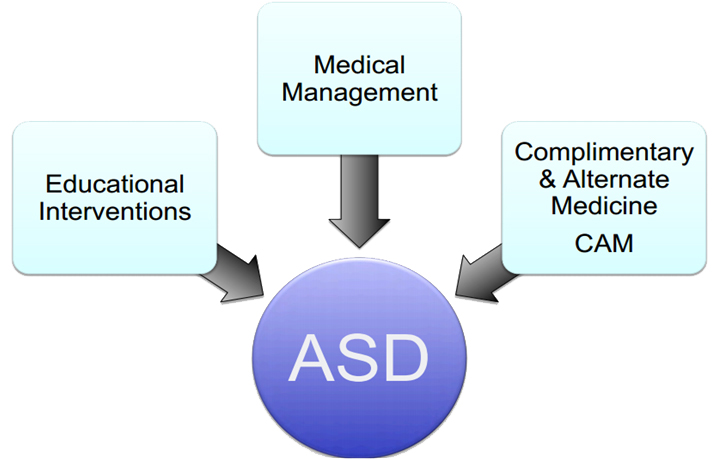 Educational Interventions / BehavioralStrategies / Rehabilitative Therapies
Different guiding principles
Academic learning, socialization-communication, managing extreme behaviors, daily-living skills, play and leisure skills
Involvement of therapist, parents and school teachers
Frequency, intensity ?
Does one type fits everybody ? Combinations & ideal prescription ?
Complete psychological assessment: IQ / Behavior mapping / Sensory issues / co-morbidities / RRB
Involvement of family, availability, affordability ?
Pick & Choose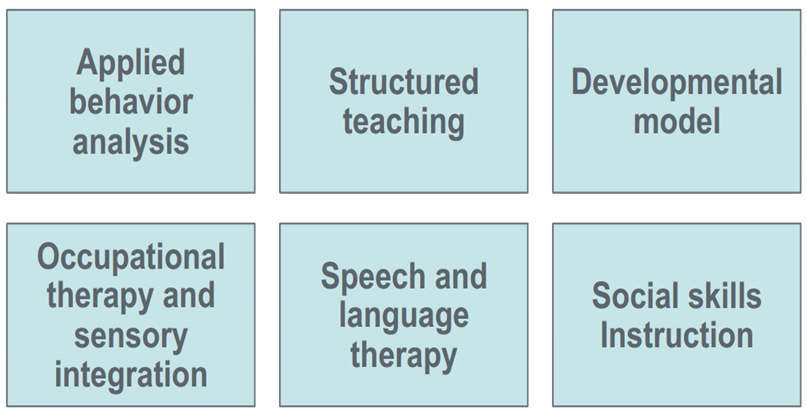 Educational Interventions & Principles

Applied Behavior Analysis
Interventions that are based on principles of learning derived from research to systematically change behavior
Early intensive behavioral treatment: substantial, sustained gains in cognitive ability, language, and adaptive behavior
Also some measures of social behavior
ABA: Evidence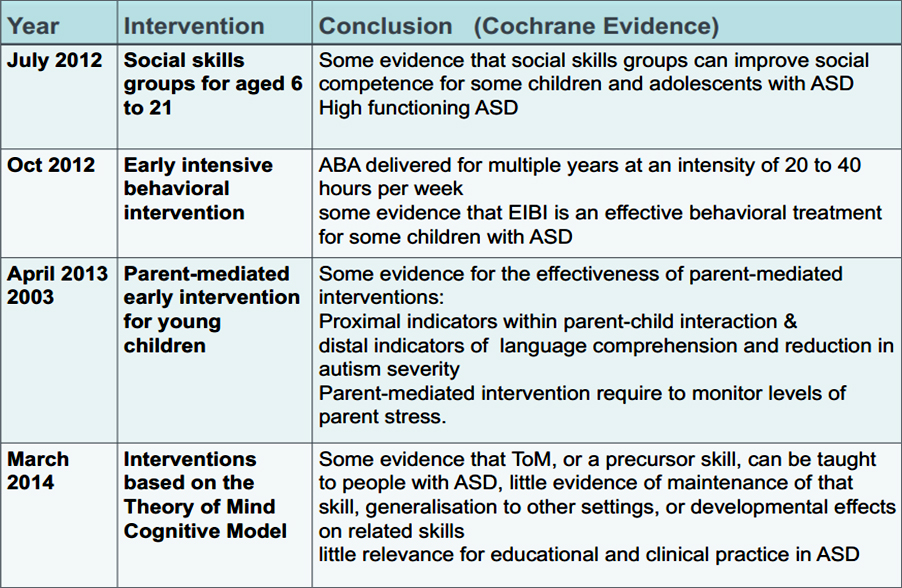 Sensory Integration Therapy
Hypothesis: Impairment in sensory information processing in ASD
Based on Ayres' Theory of sensory integration
Play activities specifically designed to restore effective neurological processing by enhancing vestibular, proprioceptive and tactile systems
Sensory diet: Specifically designed plan of biochemical and neurological inputs to promote and facilitate function

Sensory Diet
Biochemical inputs:

Sleep
Nutrition
Neurological inputs:

Vestibular
Proprioceptive
Tactile
Auditory
Visual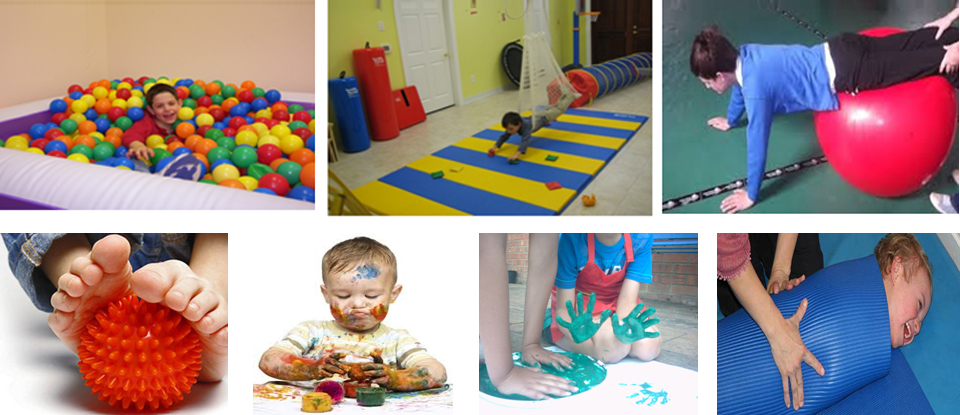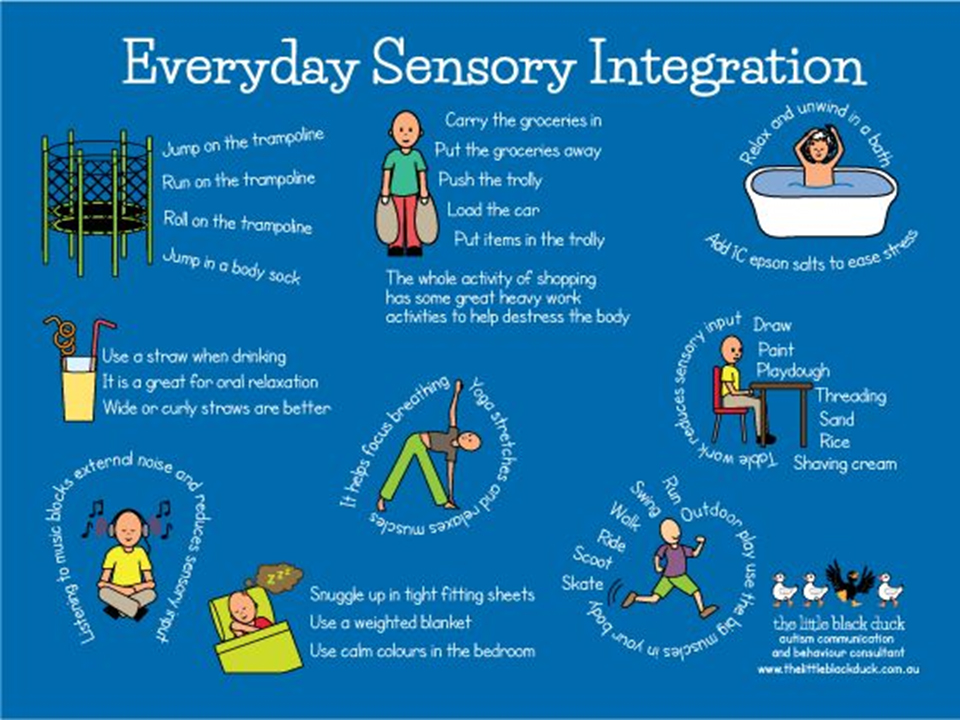 Sensory Integration Therapy: Evidence
4 studies: Significant improvement in several autistic core symptoms
Limitations

Two studies used a standardized form of  therapy
Lack of standardized outcome measures
Lack of well-defined control group
Recommended by NICE guidelines, 2013
ASD: Medical Management
Routine care: immunization, growth, nutrition, hygiene
Psychopharmacology: core symptoms, associated symptoms and psychiatric illnesses
Co morbidities: epilepsy, GI, behavior, psychiatric illnesses, sleep (identification & treatment)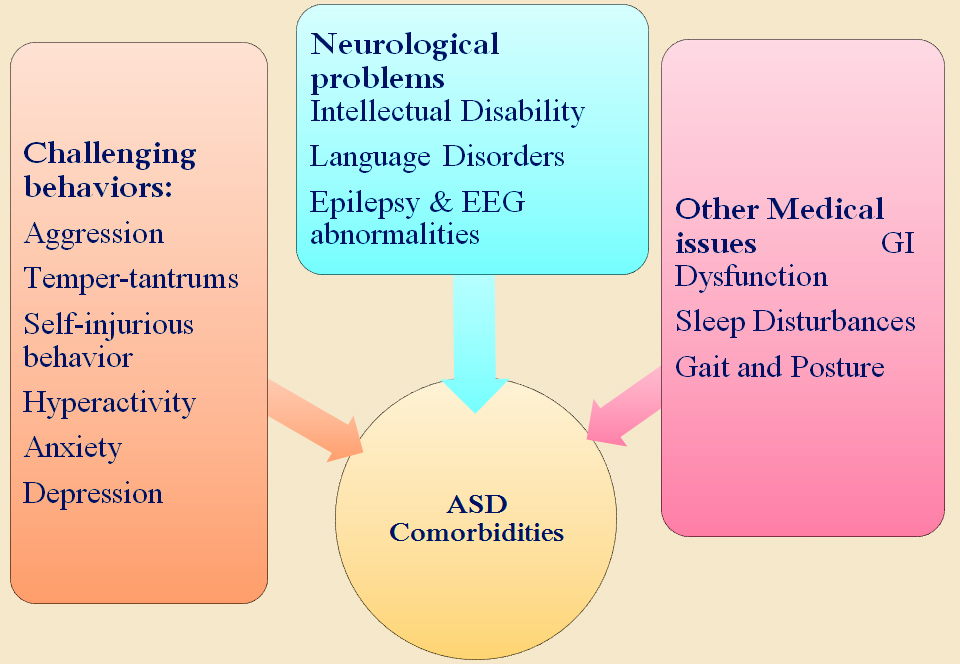 Psychopharmacology
Pharmacologic interventions may be considered for maladaptive behaviors such as aggression, self injurious behavior
Repetitive behaviors (eg: perseveration, obsessions, compulsions, and stereotypic movements)
Sleep disturbance, mood lability, irritability, anxiety, hyperactivity, inattention, destructive behavior, or other disruptive behaviors
Repetitive behavior, obsessive-compulsive symptoms, stereotypic movement disorder: SSRIs (fluoxetine, fluvoxamine, citalopram), Atypical antipsychotic agents (risperidone, aripiprazole, olanzapine), Valproic acid
ADHD: stimulants, atypical antipsychotic, clonidine
Aggression, self injury: atypical antipsychotic, VPA, LEV, SSRIs
Anxiety and depression: SSRIs
Pharmacologic Interventions: Evidence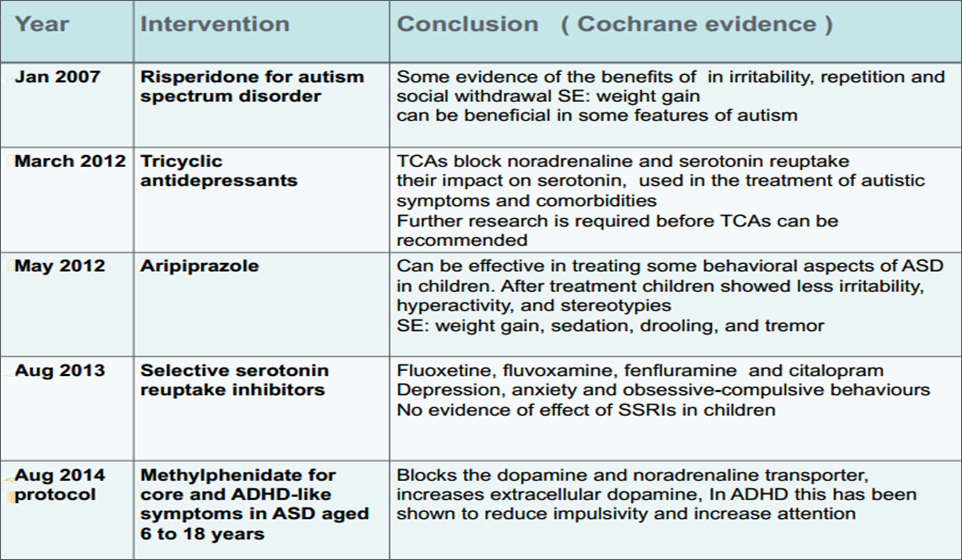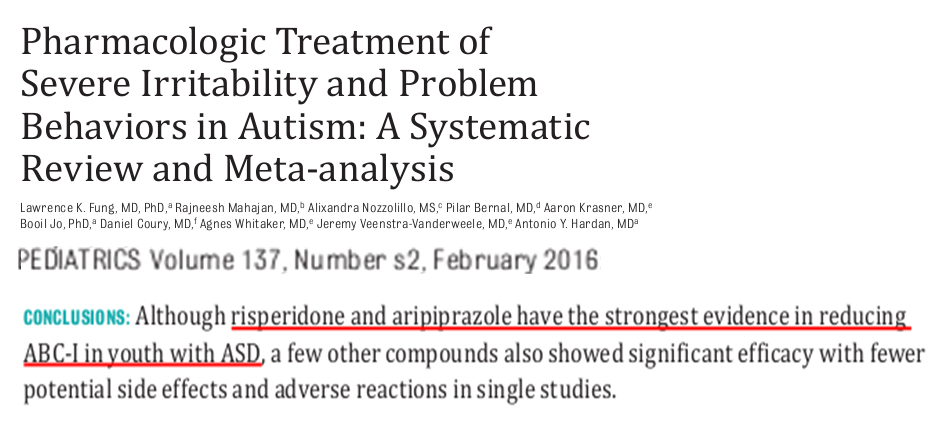 1 α2 adrenergic agonist (clonidine), 1 psychostimulant (methylphenidate), and 1 tricyclic antidepressant (tianeptine) demonstrated moderate effect sizes in decreasing ABC-I.
GI Disturbances
Gastrointestinal symptoms (including abnormal stool pattern, frequent constipation, frequent vomiting, and frequent abdominal pain) reported in 70% of children with ASDs
High rates of lymphoid nodular hyperplasia & histologically subtle esophagitis, gastritis, duodenitis, and colitis
Routine specialized gastroenterological testing for asymptomatic children is not recommended
Occult gastrointestinal discomfort should be considered in a child who presents with a change in behavior, such as outbursts of aggression or self-injury
Effective management may provide global benefit
PEDIATRICS Volume120, Number5, November 2007
Sleep Disturbances
Estimated prevalence of 50% to 80%
In a study at AIIMS, it was found that sleep problems affect upto 58 % of children with autism.
Polysomnography studies show that children with ASD have altered sleep architecture includingshorter total sleep time and longer sleep latency than typically developing peers
Pediatrics. 2016;137(S2)
Sleep Disturbances: Melatonin
Abnormality of melatonin regulation in children with ASDs
Clinical studies have shown some benefit

Small randomized, placebo-controlled trials showed increased sleep duration and reduced sleep latency
Retrospective study of 107 children showed only 3 with side effects of daytime sleepiness and enuresis (Andersen, 2008)

Recommendation: 1-3 mg 30 minutes prior to bedtime
EEG Abnormalities: Treat or Not
Epileptiform abnormalities: 10% to 72% patients
No well designed, controlled trials have defined a role for antiepileptic drug therapy for symptoms of ASD
In absence of clinical epilepsy, treatment of  epileptiform activity with AEDs has not been demonstrated to reverse the symptoms of ASD
Epilepsia, 48 (Suppl. 9):33–35, 2007
Management Guidelines for CSWS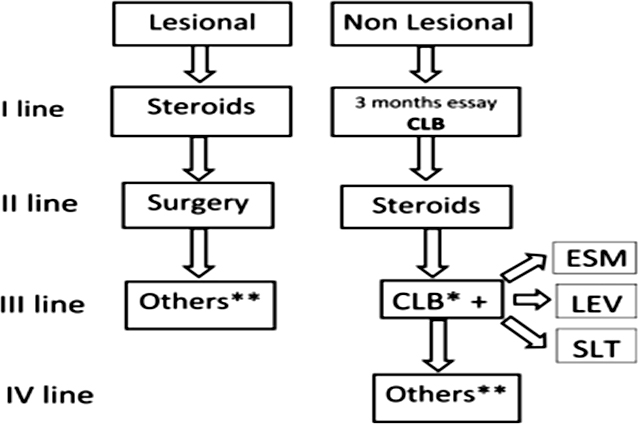 Veggiotti P et. al. Journal of Clinical Neurophysiology, February 2016
Anecdotal Therapies
IV Secretin
Intranasal Oxytocin
Chelation: DMSA and others
HBOT
Mesenchymal stem cell transplant (umb cord or peripheral), fetal stem cell
Anecdotal Therapies: Evidence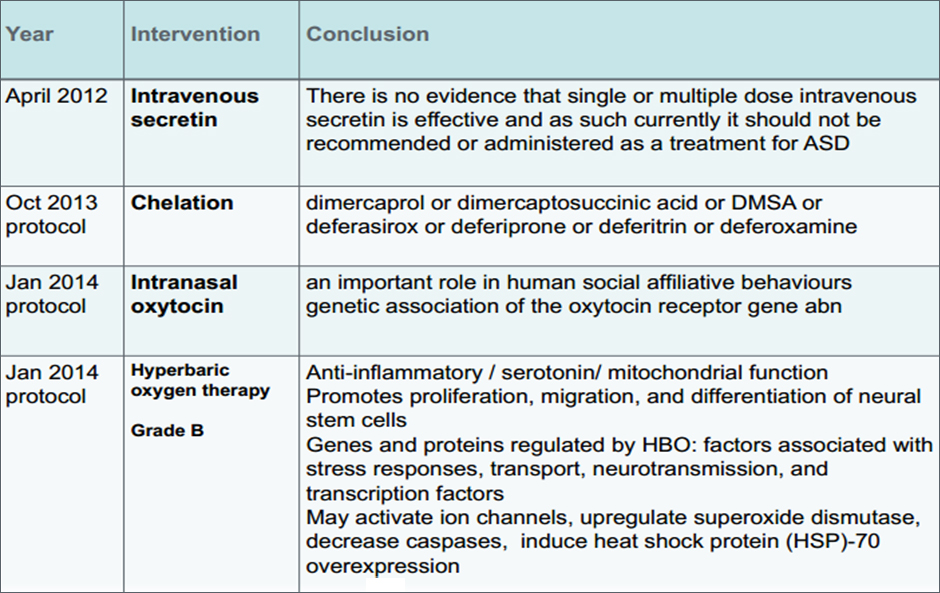 What is CAM?
"A group of diverse medical and health care systems, practices, and products that are not presently considered to be part of conventional medicine"
 "A broad domain of healing resources that encompasses all health modalities, and practices other than those intrinsic to the politically dominant health systems of a particular society or culture in a given historical period"
ASD: Vitamins, minerals, exclusion diets, yoga, music therapy………..
Lack of "Gold Standard"
Who uses CAM?
CAM perceived as "natural", without side effects
 > 75% chose CAM based on perception of
safety, absence of side effects or prior
experience with side effects
Internet and media
Recommendations by friends or families
of other children with ASD
Hanson et al. Use of CAM among children diagnosed with ASD.
J Autism Dev Disord. 2007
Types of CAM
Biologically Based Treatments
Dietary interventions
Vitamin supplements
Herbal remedies
Chelation
HBOT
Non Biologically Based Treatments
Mind-body medicine (i.e., prayer, yoga,  meditation, music, dance, and art)
Manipulative and body-based practices (i.e., massage, chiropractic care, acupuncture, patterning)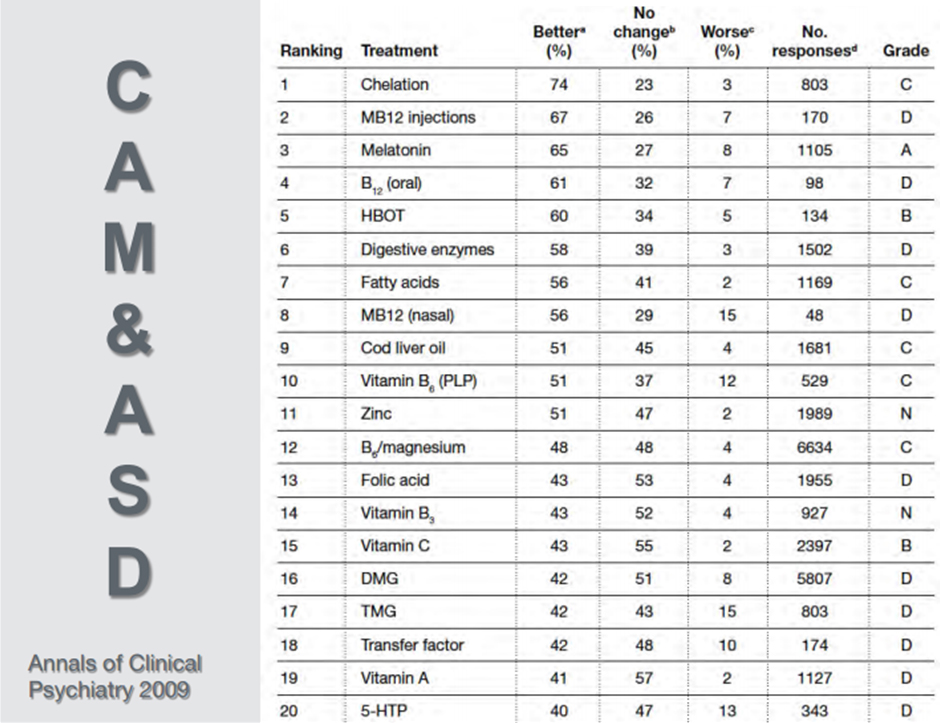 How to Handle CAM?
AAP Committee on Children with Disabilities
CAM interventions should be discussed in a nonjudgmental manner
Treating physician should provide "balanced advice about therapeutic options" and information about potential risks
CAM: Evidence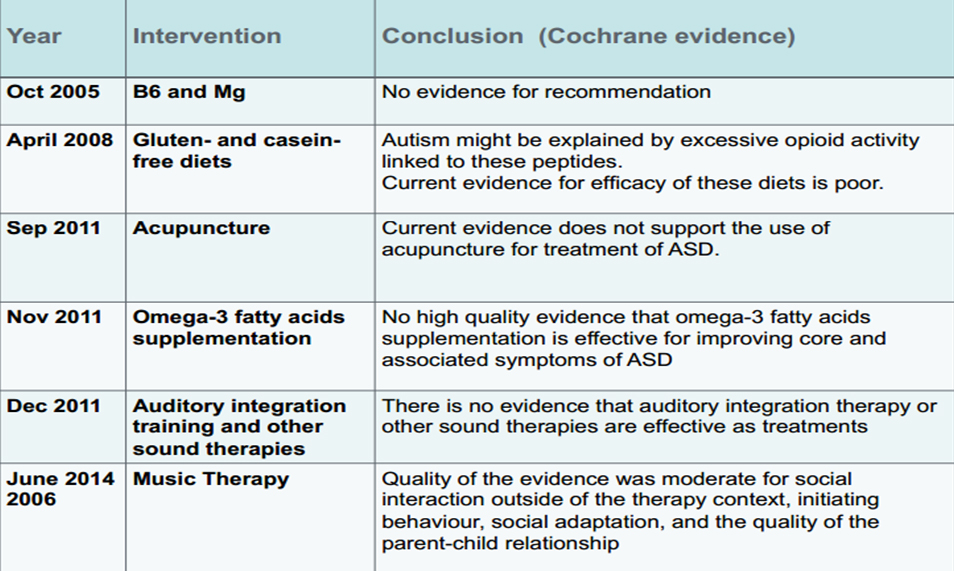 CAMs that may be used
Recommendations: Sensory integration therapy
Experimental, Individual basis
Pet therapy
Drama therapy
Music therapy
Massage
Yoga
Conclusion
Educational intervention if initiated early and intensive, have shown some benefit
Resperidone and Aripiprazole is recommended for Irritability and problem behaviors in ASD
Melatonin is effective for sleep disturbances
CAM should be looked at with open mind and weighed appropriately
Thank You